Marblelous Blog
Love creating things and looking for smart solutions for different types of problems? Always wanted to be an engineer and build cool things? Link software with hardware? Please read further, I've come up with exactly what you'll probably find interesting. Check out my blog where I will give you an insight into how I started with one of my biggest projects ever… Welcome to the world of Marblelous!
Today, Marblelous was invited to Helmond, at Hogeschool De Kempel. This day was all about "Make-it-Day", where over 600 students could get to work with things like "make-it", media, programming/coding, design, research and technology. Yep, a perfect match with...
read more
Today, all Marblelous Smart Tricks went on the test bench. We got out of bed early and had to drive quite a distance through heavy snowfall. Once inside the test lab, our eyes were wide open. Everywhere you looked, you could see expensive measuring instruments,...
read more
Whooooww! The very first white products are on their way 🙂 FedEx informed me that they would be delivered next Monday. But of course, I couldn't wait for that long, so I called FedEx and asked if I could come to pick them up a few days earlier. And yes; after some...
read more
Today I received a very nice package from Sweden: a FLIC starter kit. (url: https://flic.io/) This smart home button is very useful in several ways related to home automation. But the main goal (for me at the moment of course :-)) is to connect it to Marblelous....
read more
This is very exciting! Thousand fully assembled printed circuit boards have just been delivered to my house. Great milestone and now we can really get this Marblelous project started. There is "only" some programming and installation/implementation work left to do,...
read more
Again a huge package with final products. Today I received the Starter, Funnel, Movable Carrier, Spirals and the Teleporter 1 (input module). Everything looks very clean and nice, so I'm a happy man! Marblelous - final versions of the starter, funnel, movable carrier,...
read more
Two big boxes with final products have arrived, YES! The Spiral (housing) and the Wheel in their final design! How cool, it looks just gorgeous. Can't wait to build and play with this… Marblelous - another shipment with final...
read more
The final versions (including the final finish) of the piranha, alligator and the gear (for the Marblelous Wheel) have just arrived. Everything looks very good. Fantastic! "The Eye wants something too"The gear (sprocket) had been ready for a while, but then there were...
read more
Today I received a box full of spirals and connectors. Now let's find some time soon to create something really wild with them 🙂 Marblelous - box full of spirals and connectors
read more
The latest revision PCBs have arrived this morning.Let's program them and put them to the test. And by the way, my dog "Byte" doesn't like the Marblelous Wheel 🙁 Marblelous - received the latest revision PCBs and now programming...
read more
Today our injection-mould maker/manufacturer came to visit to discuss everything.We had a lot to talk about, learned a lot and are really looking forward to further cooperation. We couldn't have ended this day in any other way than with a snack and a drink. Thank you...
read more
Received another well-filled box with beautiful products today.Despite the fact that there is no final finish structure on the components yet, it is already very nice to see/hold. It's really nice when everything functions properly as I envisioned it ;-)...
read more
Marbles, marbles and more marbles! Many thousands… Enough to test all products through and through.In other words: we can move forward with this for a little while 🙂 Marblelous - thousands of marbles
read more
Finally! The team is back together again. Due to COVID-19, this was not always possible (because colleague Stan lives in southern Germany). Now it's possible again, so we got to work straight away for a couple of days! In between, we had some time to take pictures for...
read more
Today I had a film shoot at my home for a Dutch Television program, called "Typisch Eijsden". I was allowed to show a little bit of Marblelous. During the filming, 4000 speakers were delivered which would soon be placed on the printed circuit boards. That, at least,...
read more
Whooohoooww!! The package with (among other things) the teleporter1 (input module) has just been delivered. How cool to have this in your hands. It's not the final finish yet, but it already looks really good! The same goes for the modified version of the Marblelous...
read more
Ding Dong!That was the doorbell. Parcel service with a large pile (several thousand) mini/little motors.With this we can make a lot of cool Marblelous products! Marblelous - Mini Motors
read more
Today our intern Carla recorded some beautiful shots that will be used in a special explanation/instruction video. And by the way, love it, just to experience every single time how much fun it is, to play with our product 🙂 [presto_player...
read more
Another nice package with new samples…Already have a big pile of components over here at my house 🙂 Marblelous - nice package with new samples
read more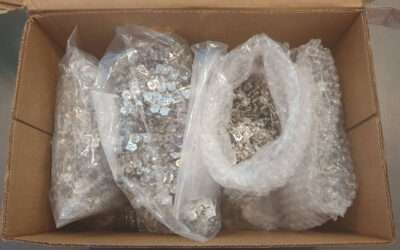 Due to worldwide delivery problems regarding microchips and lots of other electronics-related components, we decided to order lots of battery clips. These parts were already out of stock at some suppliers, with a status "unknown" when it would be in stock again. So I...
read more
They work hard in China. I just know that for sure, because they sent me a few photos of a number of injection molds they are working on. We will soon be making the Decision Maker, Lane Switch and the Spiral with these molds. I can't wait to receive the first samples....
read more
Today they came to lay the carpet in the Marblelous lab. It immediately looks a lot better! As soon as we have enough Marblelous products in, we can start building cool marble tracks here. No need to tell you, I guess, that I want to do that rather yesterday than...
read more
Today was another long day (with various activities) in the Marblelous room. I sprayed a number of motherboards white and then mounted them on a wall as a kind of "high tech design". RGB-LED strips will also be installed, and a plate with "Generative Design" will be...
read more
More samples from the injection molds.Today I received the Marblelous Piranha, Alligator, Cookie Press and some other things.While these are (of course) not the final colors, everything looks very nice and clean! Marblelous - more samples
read more
Today my brother and I placed a large Plexiglas sheet against one of the walls in the Marblelous room. We will soon be able to test the products with the suction cups on this large surface. I also finished some things (some paint here and there, etc…) and a hole was...
read more
OMG! I am SOOOOO excited!Today the very first products that are being made by the injection moulds have arrived.This is really a very, very(!!) big moment for me (and the rest of the Marbelous team)… This is my own self-invented product that "suddenly" comes out of a...
read more
Another day working on the test lab / demo room. A great work in progress... Marblelous Test Lab Part 3
read more
The light frame is hanging and all lamps are connected and tested.So colorful and cozy 🙂 Marblelous Test Lab Light Frame
read more
Today I painted the ceiling in the Marblelous test lab black.You can see that this makes the room a lot darker.That is why I also started making a "lighting frame" that will hang in the middle of the room. I got good help again today from my dog "Byte" 🙂 In addition...
read more
Just having some fun while creating this…Pretty cool don't you think, such a suspension bridge for marbles? 🙂 Marblelous - just having some fun building this suspension bridge
read more
Sacrifice! I have decided that I will completely sacrifice the room (next to the living room) that I had in mind to make a home cinema for Marblelous. This is going to be the Marblelous "test lab" / demo room. A bit with a heavy heart (I don't have a Home Cinema...
read more
Today some important parts arrived for the "final version" of the Marblelous Starter. I immediately put everything together and programmed the correct software into it. Great to finally have the product 100% working. This just makes my day even better! [presto_player...
read more
Yes! Check! Milestone! Today the fully automatically assembled PCBs have arrived.Super cool to see our own print-design coming to life like this.I programmed a couple of them and they look fine. I ran a few software tests and I also hooked up a small LED-strip in...
read more
The 3D printing of prototypes and other test parts has been completely stopped due to the flood this week.My Makerspace is in the basement of my house. Due to the extremely high water here in our province Limburg this week, I had to move all valuable equipment and...
read more
Whoohoo! Even more photos of the injection molds they are making. Before I started Marblelous, I knew almost nothing about injection molds and the whole process behind them. But because I now have a lot to do with it, I have become more and more interested in it. For...
read more
Last night I suddenly had a strange dream in which the blue Marblelous wheel was hanging on a wall somewhere.I often forget my dreams, but this time I remembered it pretty well when I woke up in the early morning. But first things first… let's start the day with a...
read more
The day before yesterday the new and improved version of the spiral arrived, but unfortunately I didn't have time to test it properly. But today was the day. I immediately tested both "flavors"; spiral above the housing and spiral below the housing. Works perfectly…...
read more
Received new 3D prints from Italy again. Yes!Among other things, my newly invented component (in Dutch called a "Haring Pin", and by the way, I still have to come up with a correct English name for it :-)) is included. With this connector you can easily create tracks...
read more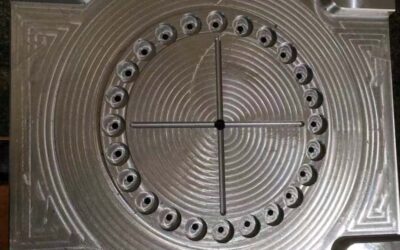 The day couldn't have started better… When I got up this morning and looked in my mailbox, I was immediately positively surprised by a very nice email: photos of the first injection mold they are working on in China 🙂 And what a great one... this is one of our...
read more
Today my colleague Stan and I went to Germany to see how our suction cups are made at the injection molding factory. Always super interesting to see such cool machines in action! In addition, it is of course always good to know who your suppliers are… Marblelous - at...
read more
This morning I was, again, early behind my computer. After a lot of testing, trying and improving I made a nice piece of software. This allows the lane changer to detect the color of the marbles and change the direction accordingly. Super cool (and handy!), right?!...
read more
Yet another box with beautiful 3D prints was delivered to my house. Everything looks great, again. I couldn't resist playing a little bit with it. Funny side note: apparently Weerg (the 3D printing company) sometimes ships small parts in a custom-made futuristic kind...
read more
Today I received the first printed circuit boards for testing. Unfortunately, there was one very small component missing, so I fixed that myself with a little soldering. After some programming, the printed circuit boards became alive. Marblelous - printed circuit...
read more
Today I received a 3D rendered video, maybe as a promo for our Kickstarter campaign. Although the movie is pretty cool, at this point there is no sound added to the video. As soon as I have some time, then I will add sound/audio to the video which will make it even...
read more
I just had some kind of epiphany, a moment of clarity. What if I would integrate a light hose inside the marble track? And yeah, it worked 🙂 Looks pretty cool, even though I say so myself! Marblelous - Light Hose
read more
Today my brother (and business partner) Chris and I had a meeting to check various products. We also built some test setups to be able to check various things properly. Marblelous - checking and testing with my...
read more
This morning I received a very important package from Italy. The long-awaited Teleporter (input module) was included, among other things, so I ran quickly to my basement (Maker Space) to make a beautiful lens with my CNC milling cutter, so the visibility of the light...
read more
Who-how! The other robots are ready… Starting to become a serious robot park already. Really cool!
read more
Today I printed some extra alligators and piranhas, which we will be testing by some friends and people we know at their own homes. By the way, I figured out a nice application myself. 🙂 Marblelous - Printing extra alligators...
read more
Yesterday I downloaded a couple of 3D files in order to print a robot. I tweaked a few things and immediately put my 3D printers to work so I could assemble them today. Super cool to see the robot pick up/put away a marble. At the time of writing, the printers are...
read more
Today was a day of "anything and everything". I received 2 packages: printed circuit boards to test with "bare" ESP32's and various suction cups to test with. Also some fun tinkering by using Marblelous components in a slightly different way. ...
read more
Today we received some new 3D-printed products from Weerg (in Italy).What a great company that has such good service and delivers very high-quality 3D prints.I'm glad that they exist! By the way: the machines they have (12x HP Multi Jet Fusion 5210 3D printers) make...
read more
A couple of days ago I ordered the very first 3D prints at Weerg. They are a company in Italy that have a 3D-print service.Today I received the prints. This is also the moment where I first see the Marblelous wheel coming to life.What a day… What a great feeling to...
read more
Today I designed a great marble track for my kitchen. Cool, right? 🙂 Marblelous - kitchen marble track design
read more
Today we filmed some shots at my brother's home for an online tech blog that we want to contact soon. Hopefully, they are interested when they see their own logo at the end 🙂
read more
Recently I gave some Marblelous test products to a good friend so that he could play with them and try out some things with his kids. Today he forwarded me this video. Nice to see that others can also enjoy themselves with Marblelous 🙂 [presto_player...
read more
I was searching for someone that could create a nice "high-tech/space looking" render video from the Marblelous 3D drawings. As input/bring over my idea I have collected these pictures in order to send them to the render artist.Very curious about what he is gonna...
read more
Via Gathering of Tweakers (a forum I visit regularly) I met someone who made some nice 3D renders. I have just received these, which you can see for yourself below. How cool to see the product come to life in this way… Received of few 3D-renders...
read more
The promotional video has just been delivered to us. We are very happy with the end result!Now let's quickly put it online and show the world what we have made 🙂 Want to check out our Filming Day that led to this Demo Video? Then click...
read more
These are some Logos of tech blogs that I have 3D-printed.The idea is that we build tracks that go through the logos and film these.Afterward, we send the tech-blogs these videos to hopefully "trigger" them to write an article about Marblelous. Marblelous - some of...
read more
Today my girlfriend and I create a kind of "Mario Bros" theme marble track.I also created a small test setup with some funnels. Looks also nice, right? Marblelous - kind of Mario Bros Marble...
read more
Today I built a small track in the kitchen.I also had a creative vibe when I was behind my computer… So I created a funny "Marblelous Piranha poster". Marblelous - had a creative vibe today
read more
I 3D-printed a white "Decision Maker" and gave it to my brother so that he could test it.He sent me this video afterwards. Works really well! 🙂 Marblelous - printing and testing the decisionmaker
read more
Check out our new promotional video, which we intend to use when we launch on Kickstarter. Curious how we prepared for making this video? Then check out our "2nd Promo Video Film Day".
read more
Can the Marblelous "Decision Maker" guess the outcome of the 2020 United States presidential election?
read more
Today we created pictures from the different Marblelous packages that will be the rewards on Kickstarter. Marblelous Package
read more
I filmed a short clip in order to show everyone how the teleporters work.Works perfect, right?! Marblelous - teleporters in action
read more
The first 3D-prints with the new SLS-printer. Everything looks and fits perfect! Marblelous - First 3D prints SLS printer
read more
Goosebumps! Today I received my Sinterit Lisa Pro SLS 3D printer. My day can't go wrong anymore.Let's bring this beast inside and start its first print job… About SLS 3D-printing:Selective laser sintering is an additive manufacturing (AM) technology that uses a...
read more
It's my birthday!So let's think of a "present" for me :-)What about creating some nice 3D-rendered images from a couple of Marblelous components?Pretty neat, right? 3D rendered images as my own birthday present
read more
Today the 2nd Marblelous promo video was filmed. We look forward to receiving the final edit 🙂 Marblelous - 2nd promo video film day UPDATE 4-Nov-2020: check out here the end result of this 2nd promotion video film...
read more
I bought a hobby package for self-creating soap.With the Marblelous-cookie-mould I created some "soap-marbles" that can be dropped by the Marblelous-starter… "Ok Google, drop soap" 🙂 Marblelous - one soap marble and a real...
read more
Test setup with LED-strip build underneath the track.The LED strip lights up exactly where the marble is. Marblelous - LED strip lights
read more
We received the first big amount of marbles.Let's get things rolling now! 🙂 Marblelous - many marbles
read more
Newton's pendulum but then with marbles 🙂
read more
Today I designed + printed some logos for a special marketing idea that I have.To be continued… Marblelous - logo print
read more
The 3D print from the Decision Maker is ready.Testing time… works well! 🙂 Marblelous - Testing the decisionmaker - what's it going to be?
read more
My friend/colleague Stan came up with an idea for a new Marblelous-product: The Decision Maker.Today I tested this with some things that I had laying around. To be continued... Marblelous - our first Decision Makers
read more
Today I made a nice addon/upgrade for the Marblelous-finisher: LED's that fully lighten up Plexi-Rods when marbles roll over it. Marblelous - plexi rods fully lightened up when marbles roll over it. [presto_player...
read more
Finally, I found some time to work on the space scene (for the Marblelous-teleporters) again.It was a long day, but it's almost finished! Marblelous - building the teleporter...
read more
Togheter with a friend I began to create a spacey scene in order to film the Marblelous teleporters in their "natural habitat". We used wood, plaster and some paint to create this nice miniature space environment.Together with some bushes, craters and other 3D-printed...
read more
Today we went to the notary's office to register the Marblelous company.Cheers! Marblelous at the Notary
read more
Today my buddy Stan and I went to "Groter in Wonen" (a very big and nice furniture shop in Maastricht) for creating and filming some nice marble tracks. Very nice to see how the product comes to life in such a beautiful environment. Thanks for having us!...
read more
Today was filming day at the "NieuweStroom" office.What a nice location for testing and filming our Marble-track! Filming Day Marblelous at Nieuwe Stroom
read more
Filming day: Woohoo!We filmed the Marblelous demo video.Now we have to wait for the video editor and see what he comes up with… Marblelous demo - Preparing for filming day Marblelous - filming day UPDATE 1-12-2020: ...and here is the end result of our Filming Day...
read more
My brother and I are building some tracks that are being filmed the day after tomorrow. Marblelous - building tracks with my brother
read more
I have created a nice Marblelous set and put it into a handy box so that I can take it with me when I need to. Marblelous Set
read more
Today I created a Marblelous computer game.Just for fun, and just to amuse me (with both building and playing the game) :-)But in order to (maybe) make it global available one time, I sent Activision (the makers of "The Incredible Machine" in 1993) an email where I...
read more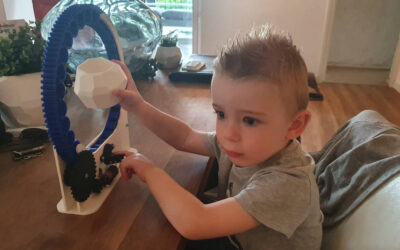 I printed a couple of more wheels and got good help from my brother's son 🙂 Marblelous - just a few more wheels
read more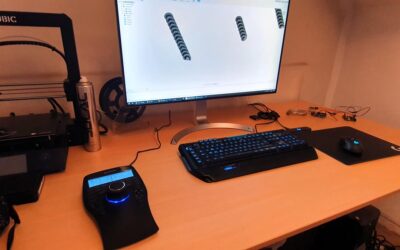 The "Marblelous Spiral" is born!2 images and a video say more than 1000 words…. See for yourself ;-)It's nice to have a working first version so that we can develop it further from here. Birth of the Marblelous Spiral
read more
I created the "Marblelous Finisher". A device that lets you know when your marble reaches the finish. Wohooowwwww ---> applause 🙂 Marblelous Finisher
read more
The first version of the "Marblelous pump". Very happy (and proud) that this very first (and quick) design was directly working!Also thanks to my dad who quickly soldered this small prototype PCB for me. Marblelous - First Version Marblelous...
read more
I designed and 3D-printed a basis for the wheel, a good starting point.It doesn't look very nice already, but hey… it looks like this is gonna work 🙂 Marblelous - wheel basis
read more
Woohoo! I just received the design of the teleporter input module. Looks very spacey to me! Now let's find some time to get this thing working and teleport some marbles! Marblelous - Teleporter input donut module
read more
This morning I received the 3D-design from the teleporter output-module.I also quickly designed a 3D-model for the input module (the donut form). Unfortunately I ran out of 3D-print filament, except for "Dutch Orange" so I printed the first teleporter in that color....
read more
I had some IKEA "pins" laying around.Today I had the idea to use them in the track.I designed and printed the so-called "peg-carrier". Marblelous - Peg Carrier
read more
Just a picture for fun :-)Marble track pieces everywhere…And as you can see: I'm a very busy guy, haha Marblelous - marble track pieces all over the place
read more
Today I contacted someone from a dutch forum (Gathering of Tweakers) where I always hang out.I have a new product in mind, and I want this to be very spacey. So after a phone call, I sent him these images.Hopefully, he can create something very nice with this. So...
read more
I thought of a wheel that lifts marbles up in a 3D environment. So I started drawing it.The print took 30 hours, so I had time enough to create a wooden base in order to test the wheel. Marblelous - wheel that lifts marbles and Byte is checking it out.
read more
I had the idea to create a plant pot where the marble track can go through.So let's design and print it 🙂 Unfortunately, I only have red 3D-print filament available at this moment… Marblelous - Plant Pot Tunnel
read more
I printed a couple of more tracks and connectors.let's see if we can get this working… Marblelous - more tracks and connectors printed
read more
Printer is almost ready, so first tests are starting soon… Marblelous - almost ready for testing
read more
3D drawings from connectors, straight and bended track are ready.I loaded them into the 3D-print software and started the print.It prints overnight, so I have to wait a while… Marblelous - 3D connector Drawings
read more
So much more than an ordinary marble run
For more information about my latest and biggest project, please click here: Marblelous.tech